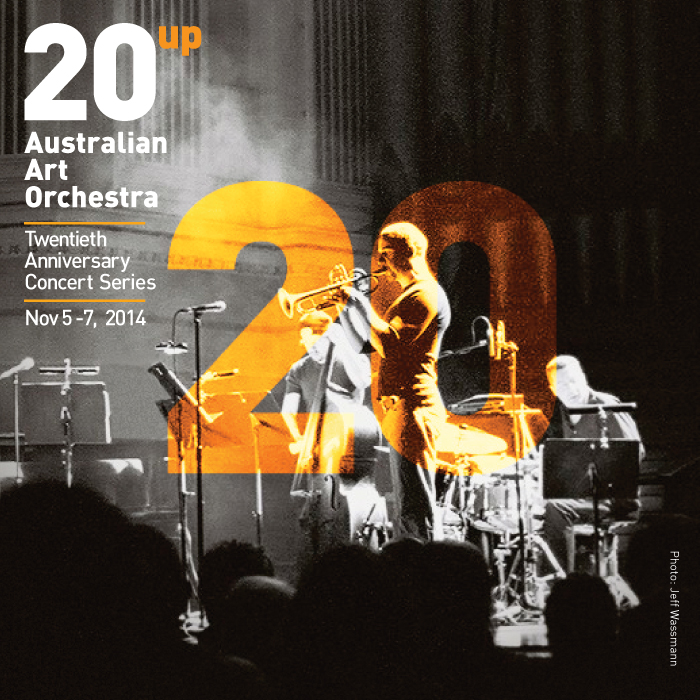 WORLD PREMIERE
Friday 7 November 2014, Malthouse, Melbourne 2014
FEATURING
Trumpet
Eugene Ball
Voice
Dan Barnett
Drums
Allan Browne
Various devices
Austin Buckett
Alto saxophone/clarinet
Lachlan Davidson
Tenor saxophone
Sandy Evans
Piano
Paul Grabowsky
Baritone saxophone
Mirko Guerrini
Tenor saxophone/flute
Tony Hicks
Guitar
Geoff Hughes
Trumpet, Electronics
Peter Knight
Trombone
James Macaulay
Voice
Ngaiire
Martin Ng
Turntables
Alto saxophone
Phil Noy
Bass
Sam Pankhurst
Percussion
Alex Pertout
Bass
Phillip Rex
Drums
Niko Schauble
Bass Trombone
Adrian Sherriff
Voice
Gian Slater
Trumpet
Scott Tinkler
Percussion
Vanessa Tomlinson
Violin
Erkki Veltheim
Trumpet
Paul Williamson
CELEBRATING THE MUSIC OF THE AAO PAST, PRESENT AND FUTURE
A solo concert series and gala performance by the full orchestra featuring Ngaiire, Paul Grabowsky, Sandy Evans, Eugene Ball, Artistic Director Peter Knight and more…
For its twentieth anniversary celebration, AAO Artistic Director Peter Knight curated a program of concerts that celebrated the legacy and history of the AAO while also looking to the future.
FEATURING SELECTIONS FROM:
Testimony: The Legend of Charlie Parker by Sandy Evans
Passion by Paul Grabowsky
Ringing the Bell Backwards by Paul Grabowsky
Struttin' With Some Barbecue by Eugene Ball

And a new commission:
Virtuoso Pause by Austin Buckett
The Australian Art Orchestra celebrated its twentieth anniversary with a gala concert at The Coopers Malthouse, the venue which hosted the first AAO concert in 1996. The evening featured a suite of works drawn from the repertoire of the Australian Art Orchestra developed during twenty years of commissioning and performance including Passion (the AAO response to Bach's St Matthew Passion), Testimony (Sandy Evans' tribute to Charlie Parker), Ringing the Bell Backwards (the first work written for the Orchestra by Paul Grabowsky) and most recent work Struttin' With Some Barbecue by Eugene Ball, which featured acclaimed world/pop vocalist Ngaiire in a tribute to Louis Armstrong that premiered at MONA FOMA in January 2014.
This program also featured a new work commissioned especially for the occasion from brilliant young Sydney-based composer, Austin Buckett, which explored the meeting point of composition and improvisation and features a range of outstanding performers including vocalist Gian Slater, turntablist/experimental DJ Martin Ng and AAO Artistic Director Peter Knight on trumpet and electronics.
20UP showcased some of the most extraordinary improvising musicians in Australia including AAO founding members and new faces brought into the fold since Peter Knight's appointment.
THE SOLO SERIES
A series of intimate solo works invited audiences to experience some of the strikingly original musical languages that comprise one of this country's most innovate and unique musical ensembles. The solos were presented over two nights in ANAM Quartetthaus, a unique venue created by acclaimed design company, Bluebottle, for the Australian National Academy of Music. ANAM Quartetthaus is a small, circular building made of entirely of wood that is designed for the performance of acoustic music. It featured a slow turning stage that creates a unique listening experience.
SOLOS SERIES 1
Scott Tinkler - trumpet
Vanessa Tomlinson - percussion
Gian Slater - voice
Austin Buckett - various devices
SOLOS SERIES 2
Sam Pankhurst - double bass
Martin Ng - turntables
Sandy Evans - saxophones
Erkki Veltheim - violin